Selfie is Oxford Dictionaries' word of the year
Ubiquitous noun for social media self-portraits faces down newly discovered cute mammal the olinguito in annual contest
Selfie – "a photograph that one has taken of oneself, typically one taken with a smartphone or webcam and uploaded to a social media website" – has been named word of the year by Oxford Dictionaries editors, after the frequency of its usage increased by 17,000% over the past 12 months.
Editorial director Judy Pearsall said: "Using the Oxford Dictionarieslanguage research programme, which collects around 150m words of current English in use each month, we can see a phenomenal upward trend in the use of selfie in 2013, and this helped to cement its selection."
The word can be traced back to a post on an Australian online forum in 2002: "Um, drunk at a mates 21st, I tripped ofer [sic] and landed lip first (with front teeth coming a very close second) on a set of steps. I had a hole about 1cm long right through my bottom lip. And sorry about the focus, it was a selfie."
It has since produced an array of spinoffs, including helfie (hairstyle self), belfie (bum selfie), welfie (workout selfie), drelfie (drunken selfie), and even bookshelfie – a snap taken for the purposes of literary self-promotion.
Judy Pearsall explained its evolution: "The hashtag #selfie appeared on the photo-sharing website Flickr as early as 2004, but usage wasn't widespread until around 2012.
"In early examples, the word was often spelled with a -y, but the -ie form is more common today and has become the accepted spelling. The use of the diminutive -ie suffix is notable, as it helps to turn an essentially narcissistic enterprise into something rather more endearing. Australian English has something of a penchant for -ie words … so this helps to support the evidence for selfie having originated in Australia."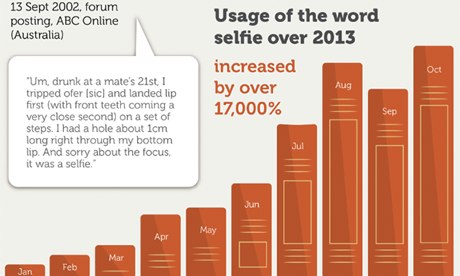 Selfie promotion … graphic shows the ascent of selfie in common usage. Photograph: Oxford Dictionaries
————————————————-
UNUSUAL SELFIES
A woman snaps a selfie with a suicidal man on the Brooklyn Bridge.Photo: Paul Martinka
Don't jump — until I get this picture lined up!
America's selfie obsession reached a new low on Tuesday when a woman snapped a cellphone self-portrait that also captured a suicidal man on the Brooklyn Bridge.
With scores of onlookers watching the dramatic 10 a.m. rescue by cops, the crass camerawoman turned her back to the scene, angled her phone toward the bridge and snapped a shot.
The scarf-clad blonde even cracked a thin smile.
When approached by The Post afterward, she suddenly became camera-shy.
"I'd rather not," she said when asked for her name. She then hustled out of Brooklyn Bridge Park.
The shot of the unidentified man — who was saved by officers — has instantly earned a place in the rogue's gallery, not far behind Anthony Weiner's infamous crotch shot and Amanda Bynes topless breakdown photos.
Selfies have become so wildly popular that the term was named word of the year for 2013 by the Oxford Dictionary.
The craze includes not just celebrities at their worst — average people have also become viral phenomena.
One of the most notorious came in The Bronx in May, when Bahsid McLean, 23, murdered his mom, Tanya Byrd, then posed with a picture of her severed head.
In October in Florida, high-school junior Malik Whiter snapped a selfie in a classroom while his teacher was seen going through labor in the background.
Modal Trigger
Additional reporting by Daniel Prendergast
————————————————-
The story behind "that selfie" – The famous one made by president Barack Obama at  Nelson Mandela funeral
US President Barack Obama and British Prime Minister David Cameron pose for a picture with Denmark's Prime Minister Helle Thorning Schmidt next to US First Lady Michelle Obama during the memorial service for South African former president Nelson Mandela in Johannesburg. (AFP Photo / Roberto Schmidt)
By Roberto Schmidt
So here's the photo, my photo, which quickly lit up the world's social networks and news websites. The "selfie" of three world leaders who, during South Africa's farewell to Nelson Mandela, were messing about like kids instead of behaving with the mournful gravitas one might expect.
In general on this blog, photojournalists tell the story behind a picture they've taken. I've done this for images from Pakistan, and India, where I am based. And here I am again, but this time the picture comes from a stadium in Soweto, and shows people taking a photo of themselves. I guess it's a sign of our times that somehow this image seemed to get more attention than the event itself. Go figure.

Anyway, I arrived in South Africa with several other AFP journalists to cover the farewell and funeral ceremonies for Nelson Mandela. We were in the Soccer City stadium in Soweto, under a driving rain. I'd been there since the crack of dawn and when I took this picture, the memorial ceremony had already been going on for more than two hours.
From the podium, Obama had just qualified Mandela as a "giant of history who moved a nation towards justice." After his stirring eulogy, America's first black president sat about 150 metres across from where I was set up. He was surrounded by other foreign dignitaries and I decided to follow his movements with the help of my 600 mm x 2 telephoto lens.
So Obama took his place amid these leaders who'd gathered from all corners of the globe. Among them was British Prime Minister David Cameron, as well as a woman who I wasn't able to immediately identify. I later learned it was the Danish Prime Minister Helle Thorning Schmidt. I'm a German-Colombian based in India, so I don't feel too bad I didn't recognize her! At the time, I thought it must have been one of Obama's many staffers.
Anyway, suddenly this woman pulled out her mobile phone and took a photo of herself smiling with Cameron and the US president. I captured the scene reflexively. All around me in the stadium, South Africans were dancing, singing and laughing to honour their departed leader. It was more like a carnival atmosphere, not at all morbid. The ceremony had already gone on for two hours and would last another two. The atmosphere was totally relaxed – I didn't see anything shocking in my viewfinder, president of the US or not. We are in Africa.
(AFP Photo / Roberto Schmidt)
I later read on social media that Michelle Obama seemed to be rather peeved on seeing the Danish prime minister take the picture. But photos can lie. In reality, just a few seconds earlier the first lady was herself joking with those around her, Cameron and Schmidt included. Her stern look was captured by chance.
I took these photos totally spontaneously, without thinking about what impact they might have. At the time, I thought the world leaders were simply acting like human beings, like me and you. I doubt anyone could have remained totally stony faced for the duration of the ceremony, while tens of thousands of people were celebrating in the stadium. For me, the behaviour of these leaders in snapping a selfie seems perfectly natural. I see nothing to complain about, and probably would have done the same in their place. The AFP team worked hard to display the reaction that South African people had for the passing of someone they consider as a father. We moved about 500 pictures, trying to portray their true feelings, and this seemingly trivial image seems to have eclipsed much of this collective work.
(AFP Photo / Roberto Schmidt)
It was interesting to see politicians in a human light because usually when we see them it is in such a controlled environment. Maybe this would not be such an issue if we, as the press, would have more access to dignitaries and be able to show they are human as the rest of us.
I confess too that it makes me a little sad we are so obsessed with day-to-day trivialities, instead of things of true importance.
During Mandela's memorial service in Johannesburg. (AFP Photo / Roberto Schmidt)